The Chairperson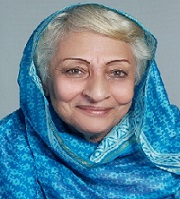 I am happy and gratified to have this opportunity to address our students, their parents, educationists and all who are committed to the cause and progress of education in our country.
At ASC we make sure that the students emerge as total professionals i.e one with a distinct individuality to lead and galvanize the process of change and transformation in 21 st century.At ASC our aim is to train students to have a mastery of basic principles of commerce, computer and science in order to become employable as well as become professionally qualified to take up careers in academic institutions, industry and social organizations. In order to succeed they are encouraged to go beyond the prescribed syllabi, become more organized and meticulous in their studies and allocate time to develop talents and activity which stimulate their intellects and are also enjoyable.
The first task of a student is to study the subject well just as the prime responsibility of a teacher is to make the subject come alive. At the same time we cannot leave the social interpretation and application of education wholly to principals, parents, pamphlets or chance. If the public is to value scientific research its worth must be made more apparent. For this teaching and learning must develop both a science and a philosophy. The techniques call for scientific study of methods and ethical study of ends. The student must be encouraged to be open-minded, critical and constructive. Opportunities need to be created for a training of mind, body, hand and eye, of purpose, leadership, integrity in work and loyalty to a cause that certainly includes, but goes beyond the means of economic satisfaction. All scientific and educational exercise must educate for citizenship, for the duties of parenthood and social living, for leisure as well as for the interpretation of life and world values.